Entre el día de hoy y mañana, los mexicanos celebramos a nuestros difuntos. Esto consiste en erguir un altar con las fotos de nuestros parientes fallecidos en donde colocamos básicamente lo que les gustaba comer o beber, sus fotos, las tradicionales calaveras de dulce con sus nombres, velas, fruta de temporada (guayabas, jícamas, mandarinas) y flores "de muerto" o flor de zempasúchitl. Sólo durante ésta época se produce y consume el pan de muerto hecho a base de huevo. Éste año mi altar estuvo dedicado a mi abuela y a mi suegro, que en paz descansen.


Tradicionalmente el día 1 de noviembre se da la bienvenida a los "santos inocentes" o a los muertos pequeños, aquellos que no pudieron crecer. El día 2, nos visitan los adultos.
Among today and tomorrow, we mexicans celebrate our dead people. This is, to erect an altar with photos of relatives who died and in where basically, we put what they liked to eat or drink, the traditional candy skulls with their names, candles, seasonal fruit (
guavas
,
jícamas
,
tangerines
) and "Flowers of the Dead" or
Zempasúchitl
flower. Only during this period we produce and consume the so called "Bread of the Dead", made out of eggs. This year my altar was dedicated to my grandmother and my father-in-law, I hope both rest in peace.
Traditionally, on November the 1st we welcome the "holy innocents" or the ones who died while being children, small, those who could not grow old. On the 2nd, those who died being adults visit us.
*
En los pueblos pequeños la gente acude a los cementerios a celebrar sus difuntos, se trata de una fiesta, de celebrar.
In small towns people go to cemeteries to celebrate their dead, this is a feast to celebrate.
Como cada año, hice mi tradicional visita al mercado de la merced donde siempre hay cosas interesantes que fotografiar:
As every year, I did my traditional visit to the "Mercado de la Merced" where there are always interesting things to photograph:
Arroz a la mexicana con huevos estrellados, ¡de dulce!
Candy-made mexican-style red rice and eggs.
Mi altar
/ my altar
Mi abuela Antonia / My granny Antonia.
----
Un personaje que siempre nos acompaña durante esta celebración es "la Catrina", una dama en los huesos pero siempre elegántemente vestida:
A character that always accompanies us during this celebration is "Catrina," a lady in the bones but always dressed elegantly: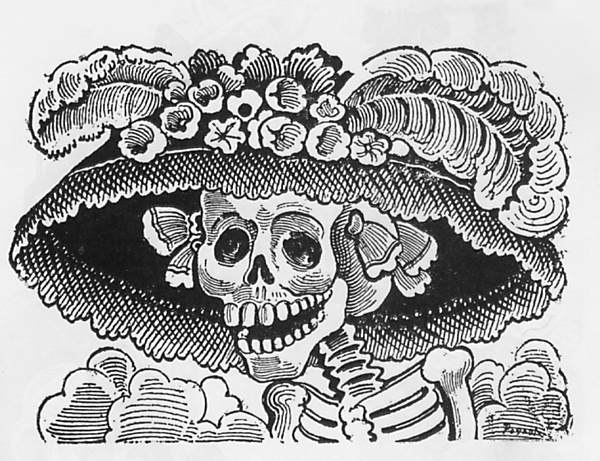 La Catrina original tal y como la concibió José Guadalupe Posadas.
La Catrina as it was conceived by José Guadalupe Posadas.
Unas divas modernas:
Some modern divas.
*
*
*
por/by Sylvia Ji
*Vía: Google images.
PD. También celebramos la invasión cultural sajona con el Halloween, ayer.
PS. We did also celebrated anglo cultural invation, Halloween, yesterday.